GIGS, BOOKINGS & PRODUCTIONS: WE CAN HAVE IT ALL!
31jan
OK, we have so much to tell, so let's get it started from here. This blog will inform all of you about the latest 'Brothers in the Booth' information regarding gigs, more bookings and productions. And as we hate to stop the train from running, just get your tickets in time as we will not stop when we are on our way. Ready?? Let's get Whoop Whooped!
GIGS
A weekend full of music is like a back full of chocolate. When you are addicted, you can't stop 'eating' it. And with our marvellous gig during the 'Amsterdam International Fashion Week' we were looking forward to this precious meal on friday. 'Into Fashion' had pointed their arrows on Panama* and they had invited 'Sister Bliss'. She became world famous next to 'Maxi Jazz' in the rocking combination 'Faithless'. And when 'Maxi' is not there, the 'Sister' is doing it alone. Which means pumping basslines combined with up-high synths. And with the crowd on the blocks around half past 2, we had the honour to take over her estafet-baton, which introduced the switch from '1 sister' to '2 brothers'. As you all know we warmed it up for Erick Morillo (on the 6th of November on the Ocean Diva) and now we had to close it after 'Sister Bliss'. Big gigs were an international sound is necessary and expected. Our set of 1,5 hour was consumed like a '5 course diner' and with the most fanatic lovers dancing to our beats till the last second, we were 'thanked' by screaming and handclapping when the lights went on and the sound was forced down. And to give it all that extra international touch, the pictures below were shot by Larah Tompa from www.pixolar.com. And of course we thank her a lot for this! :-)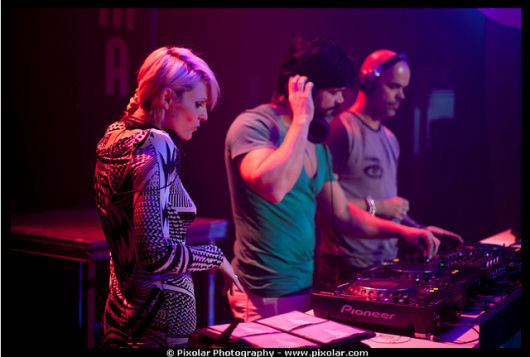 'The Sister' is handing it over to 'The Brothers'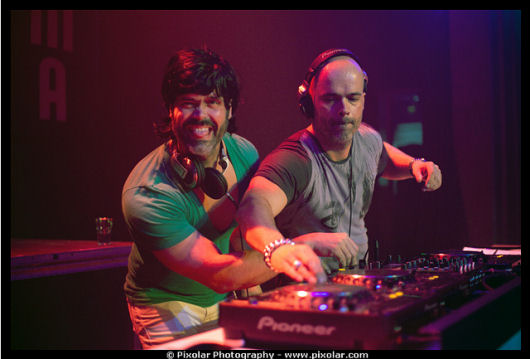 Playing and concentrating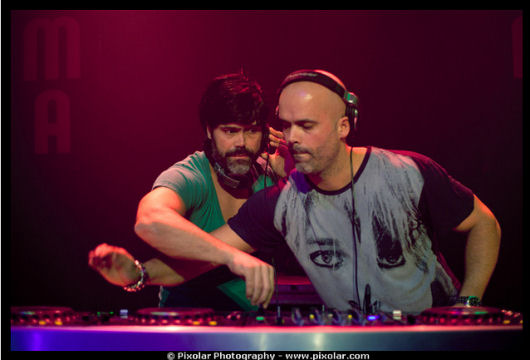 Crossed hands to bring on the utlimate sound!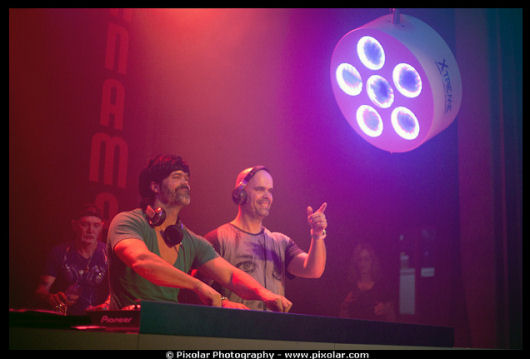 And of course giving a lot of our attention to the crowd
BOOKINGS
They keep on coming and keep on filling our agenda for the coming months. With gigs confirmed at Escape Venue, Club Seven, Venue Maassilo, Woodies and The Sand it's proved that our sound is not related to one concept or one club. We like to spread our wings and are happy that clubs and organisations don't want to see us locked up in a cage. And there is one confirmation we really like to highlight here (See flyer below). It's the gig for celebrating the first anniversary of KISS @ The Sand on the 2 second of April 2011. With a line-up that exists of (in our opinion) the hottest names in the Dutch house-scene at this moment, we are more than proud to be part of this event. And as a gift we made a special 'Brothers in the Booth KISS 1 Year' mix, which will be downloadable soon on www.kissmusic.nl. As said, proudness is the only word we can scream in this specific case! And as our feeling doesn't lie to us, we think we can confirm another BIG one this week....So stay tuned!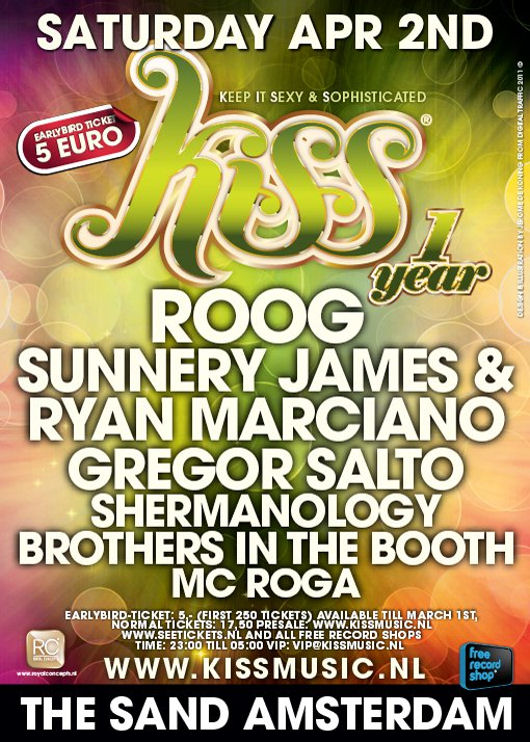 PRODUCTIONS
We informed you already with our enthusiasm and shout-outs on Facebook and Twitter and would like to make a summary here. As we started two projects some weeks ago, we are happy and satisfied to inform you that both tracks are finished!
The one with the guys from Soul Cartel is a 'Big Room' track with the name 'Ibiza Sunrise'. Feel the bass, feel the synths and hear the piano while you are watching the Ibiza sun coming up. We expect a 'Youtube movie' connected to it within two weeks from now, so all you have to do is keep an eye on our updates and you won't miss a beat of it!
Next to this we are intensively working together with a (literally) 'Bald & Hairy' DJ-duo. 'Helguera & Dominicus' are feeling what we are feeling and this has resulted into a 'Techhouse' track that won't get out of your mind once you've heard it. Catchy, pumping and for sure lifting you up to the next level during a party. The title of this track will be 'King of the Divan' and our plan is to have it first played on a friday in the radioshow 'Ministry of Beats' on Radio Decibel. There is a chance it will be played this friday already, but perhaps next week is more presumable. We just advice you to keep following our updates on this website, on our Facebook page and of course on our twitter. All we can say for now is that we are more than excited with our first two tracks ready to be released! Oh, and the third one is already knocking on heaven's door. Another one with 'H&D' and even more rolling, pumping and lifting than the one before :-)
We told you we had a lot to tell and we told so. We are enjoying every single second of what we are doing and we feel that you are feeling what we want to give to you; Our 'Love for House' presented in enthusiasm, with passion, with a big smile and in our mixes. And regarding the mixes we promiss you the second CD of 'Brothers in the Booth' will be send out this week.
And as it seems that most of all the other DJ's like to KILL IT, we are doing it just the other way: WE LIKE TO KEEP IT MORE THAN ALIVE!!! We are out for now....See you all soon! :-)
#Bitbrecent - Take A Good Look!
#Bitbgigs - We Are There!
#Bitbtweets - Tweet Tweet