WOW! ERICK MORILLO SHARES OUR 'LYLBF PIC' ON HIS WALL!!!!
21dec
DAMN!!!! When talking about 'Social Media', THIS IS 'SOCIAL MEDIA'! Erick Morillo, still our number one house god, drops our 'Live Your Life be Free' picture (taken in Pacha Ibiza) on his Facebook Wall!!
And the result of this is over 360 (!) likes and 22 shares of it! You can imagine how thankful we are, as Erick is bringing 'Brothers in the Booth' all over the world with this fantastic move! See 'the piece of evidence' below: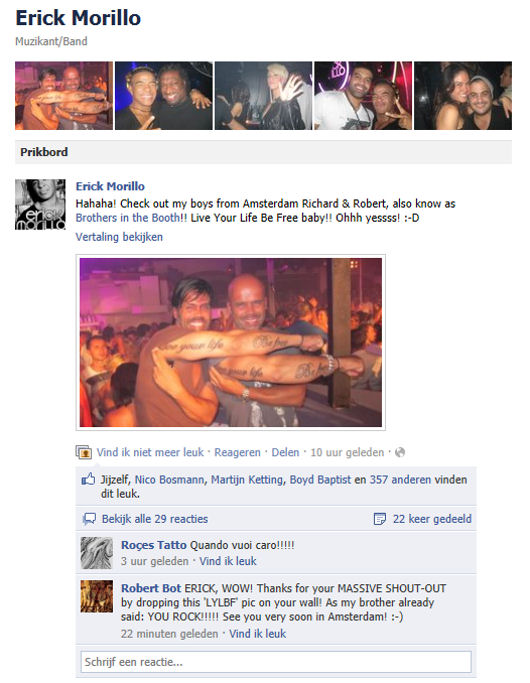 He likes to move it, move it…he likes to move it, move it…and with this he AGAIN proved it! If you like Erick Morillo too (AND YOU DO) you can like his 'Artist Facebook Page' HERE!
Let's countdown together to the moment Erick Morillo will rock Amsterdam again…and we can tell you…THAT MOMENT WILL BE VERY SOON!! #staytuned #2012 #rockingyear
UPDATE
The counter is now over 400 (!) likes and 26 shares (21st of December 2011, 17.40 CET):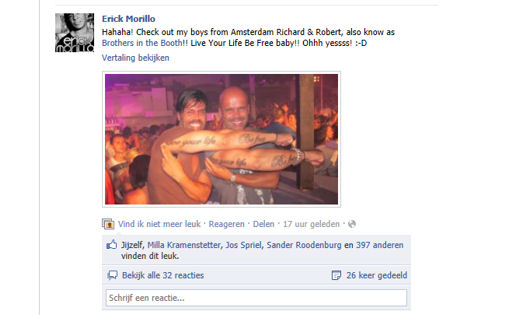 #Bitbrecent - Take A Good Look!
#Bitbgigs - We Are There!
#Bitbtweets - Tweet Tweet