GOLDEN GNOME NOMINATION & BITB WEB APP!
17mar
When we say 'ON A ROLL', we mean 'ON A ROLL'. Our twitter account is getting more and more followers each day, we are getting more and more bookings confirmed for may and june, our official facebook page is collecting more fans every day (without pushing it from our side ;-)) and with the pubication of our banging'Ibiza Sunrise' video earlier this week, we proved that 'quality' is what we want to show you while 'ROLLING'. And as our energy is not losing any of its power, we are happy to inform you with two new 'actualities' related to 'Brothers in the Booth'. Below we have highlighted them for you and we can say both give us a proud feeling of progression. And with this in mind we are only looking forward to the top…So jump on our backs and join us!
OUR NOMINATION FOR A GOLDEN GNOME!
The DJMag Top 100? The Oscars? All the 'Award winning shows' in Miami?? Of course all very nice ones, but when we look into the 'Dutch Clubscene', there is only one 'Award Show' that can touch the high quality level of these international ones. Indeed: THE GOLDEN GNOMES!!! An initiative, which was set up years ago by Jack Undercover and his wife (www.djfanclub.nl) and that comes alive every year in Paradiso Amsterdam. A show in which all subjects within the scene are put underneath a magnifying glass and are distilled to an impressive shortlist. From the best dressed artist till the DJ with the worst hairdresser and from the 'Lifetime Achievement Award' (this year probably going to Charlie Sheen ;-)) till the turntable-rocker 'followed by most groupies'.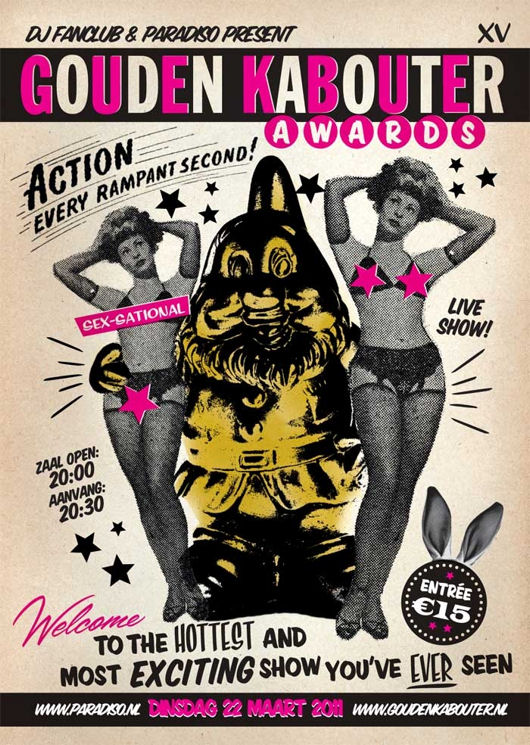 And as this year's 'Golden Gnomes' theme is 'SEX', Brothers in the Booth couldn't be missed on the shortlist!! In the category 'VIRGIN GNOME' (New Talent) we are nominated together with G-Team, Claire & Sheila Hill, 3-Hoog and Vrijbuiters. And as we all know this award show is mainly '020-based', it's a hard job for the '010 Brothers', to have this award blinking in our garden this summer. BUT….Next tuesday (22nd of March) the winners will be chosen, based on the votes of the audience, yes YOU! And THEREFOR….You all can now click on 'VOTE NOW' (<<< Yes, here) and MAKE US YOUR WINNER! And if you don't vote for us, you probably vote for someone else ;-)))
BROTHERS IN THE BOOTH WEB APP
We have been screaming about this a month ago and we can inform you that the right steps are being made at this very moment. We have made the decision to go for a 'Web App' instead of a 'Native App' as with the first one you can also check it on other smartphones than the iPhone. And as the looks/lay-out of the App remains the same as for a 'Native App', our decision was made easily.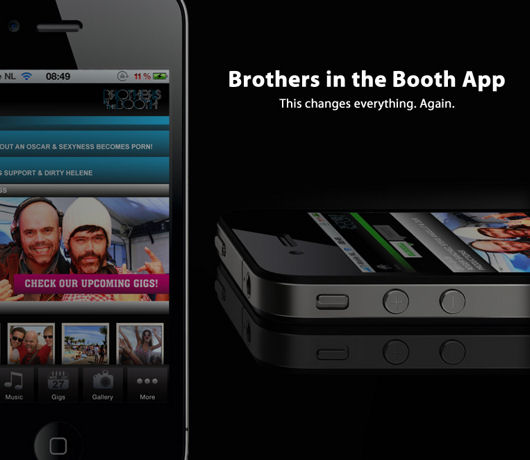 The App will give you all our news and updates while you are underway and while listening to our monthly CD in your car, you can directly add a new gig of us to your agenda. Please give us and our developer some extra time and you will be amazed! And yes, this changes everything. AGAIN! ;-)
AS SAID…WE ARE ON A ROLLLLLLL….AND READY TO ROCK!!! ;-)
Stay tuned for more…
#Bitbrecent - Take A Good Look!
#Bitbgigs - We Are There!
#Bitbtweets - Tweet Tweet