A WEEKEND FULL OF 'DOUBLE TROUBLE, DOUBLE FUN'!
04apr
WOW! That was another fantastic and rocking weekend for us. 'Double trouble, Double fun'! Thanks to Miss Bunty we started the weekend with a new quote connected to us. Because with us in the booth it's indeed always 'Double'! And as we have '48 hours in a day' you can imagine we have another long & hot weekend behind us. Time to look back, time to tell you how we experienced our '3 gigs weekend'. Time to give all a look in the world of this fresh, rocking DJ-couple. Because when you are having trouble, we are bringing FUN! ;-)
METZ ON FRIDAY DRINK @ HAL4.1
'Get fresh at the weekend, showing out, showing out'! Years ago it were Mel & Kim who motivated everybody to make the best of their two days off from work. Nowadays it's mostly a 'vrimibo' that marks the switch from work to 'doing things you really like'. And one of the best opportunities to have a good drink, combined with some early weekend dance moves, is the 'Metz on Friday Drink' in Rotterdam. Derived from the succesful sunday-concept @ Prinsestheater Rotterdam and now marking the beginning of the weekend for a lot of people.
Our settime 19.00 till 21.00, carrying the task of 'defrosting' the crowd in it. For us, again, two hours of playing a sound fitting with the time, the concept and the other artists plannend during the night. And with 'Ocean Drive' (by David Penn feat. Monia Amore) as the ultimate track for a Friday-afternoon drink ('Look at all these people, working all day long……You can leave the stress of behind') we presented a set full of lovely & techy vocal house. And while the fantastic Porsche was shining bright on the left of our booth, we were shining in the booth ourselves. Just check the video below for the prove of this! #BAM!
KISS 1 YEAR ANNIVERSARY @ THE SAND
A party-organisation that keeps it 'Sexy' & 'Sophisticated' with their popular concept. 'K.I.S.S.' started a year ago in 'The Sand', so time for an anniversary now! And with a 'dream line-up' they grabbed the attention of the clubscene on forehand. SJRM, Roog, Shermanology, Gregor Salto and us were plannend and MC Roga was the one to connect it all together with his words. Unfortunately illness and an international booking can change everything. Because Roog was suffering from heavy flu and Gregor Salto switched to an international booking in Frankfurt, the time-table was suddenly open between 00.00 and 02.00.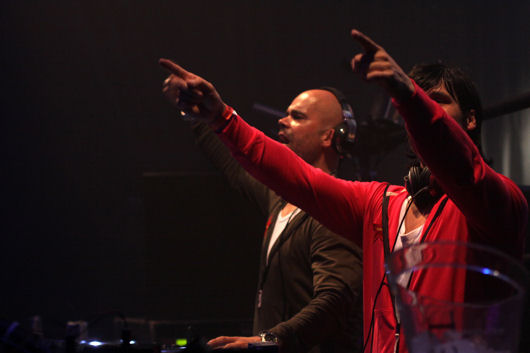 Giving us the ultimate opportunity to grab the night with a 2 hour- in stead of 1 hour set from 23.00 till 01.00. With 'Sex Gas' (Marco Effe) and 'Try for your Love' by Nick Hook (what a jewel this is!) we showed our love for tracks with 'Vibe & Groove' and during our set we collected a lot of music-lovers in the area in front of our booth. Again doing what needs to be done at this time of the night, at this place and as part of a line-up which have to make the night a perfect one. We loved to KISS again! OK, we didn't f*ck the nightclub in the pussy, but we are convinced we changed it at least into an area full of 'French KISSinggggg'!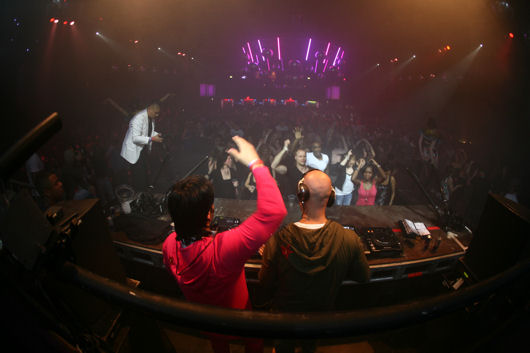 And as KISS and 'Brothers in the Booth' are a perfect match, you can check us out together very soon again! Changing 'The Sand' for the real sand of 'BC Bloomingdale' will probably make the sun shine bright in the early hours! Just get ready for some 'Heavy Vocal House'!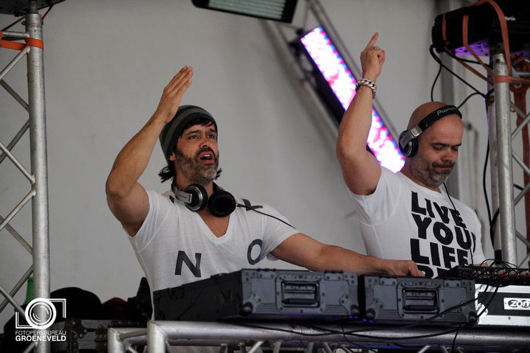 CLASSIFIED @ BC VROEGER
The last of the weekend! But as it was our first gig of this summer on the beach we were really looking forward to this one. And with the sun hitting our faces, our smiles got even brighter than they already were. Arriving at the coast around 4 and entering the outside area of 'BC Vroeger' while Rishi Romero was playing his latin-/techy beats. We jumped in the high booth around 17.15 for another hour of own productions and other quality sounds. Having the first dancing people with their feet in the sand, made us accomplish our task for the night.
And with a lot of artists coming after us to do their own 'One Man Shows' we really wonder where the respect for the organisation and the other artists did go. As in our opinion it's not done to play tracks like 'KNAS' around 7 o'clock, knowing that a bunch of colleagues are coming after you. We just think, unfortunately, that 'selfishness' is the only answer to this.
We are happy. We are happy with our gigs of last weekend. We are happy with the added value we are giving to a party. Not only keeping in mind our personal benefits, but also taking care of a complete night in which you have to show respect to the audience, to the organisation and to your colleagues. And when playing tracks on 130BPM around half past 1, knowing the night will only end at 5, is just not done…But that's just our personal opinion ;-))
We hope to see you all next weekend!! #BITB48HOURSADAY!
#Bitbrecent - Take A Good Look!
#Bitbgigs - We Are There!
#Bitbtweets - Tweet Tweet