YOU HAVE TO SEARCH FOR EGGS, NOT FOR PARTIES!
21apr
It's almost 'Easter' and this means an extra long and sunny weekend for almost ALL of you! A weekend full of fantastic gigs for 'Brothers in the Booth'. Gigs where we will show you 'our sound' and when saying 'our sound' we do this with proudness in our voice. With two new MASSIVE tracks finished and another one (by Helguera & Dominicus) in the pocket, we are fully loaded for 3 days of ultimate music-entertainment! Stop searching for other parties, just focus on our roadmap for this weekend as it shows diversity in locations and showtime. And while you are searching for the golden (or chocolate) egg this weekend, you don't have to search any further for the 'Golden parties' as they are ALL mentioned below! Hope to see a LOT OF YOU this weekend dancing in front of our booth! :-)
FRIDAY: 22 APRIL 2011
Staying close to our hometown. With two gigs (one in Rotterdam and one in Zwijndrecht) we can leave the long distances far away, so we don't have to rush to be in time. We will warm it up during the 9 year anniversary of 'Thalia Lounge' between 23.00 and 00.00 and we will close it down from 03.00-04.00 during the kick-off of 'VAIN' @ Metropool Lounge. Two set-times that ask for a complete different sound and, as you know, we will be the piece of the puzzle that fits in the right place during both gigs. Don't miss us out, as our new banger will put Zwijndrecht 'ON FIRE!!!!' ;-)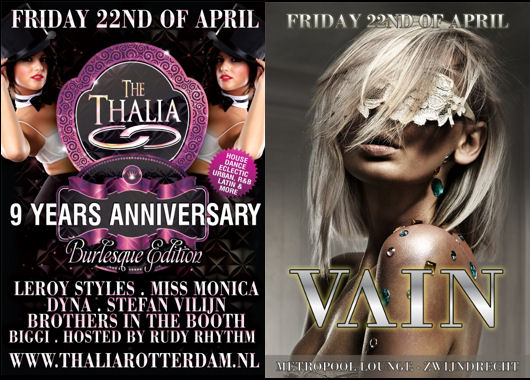 SATURDAY: 23 APRIL 2011
Let's call it the day of 'Class'! Just check the two flyers below and you understand what we mean with this. 'Tres Chique' will make the water underneath the Ocean Diva 'cook' and we feel honoured (again) to warm-up one of the greatest housemasters; DJ Roog. Settime is 22.00 till 23.30 so get on board early, as our selection will bring movement to your body from the first second. Guess we will do some small drinks, little dance-moves and nice fan-talks after this gig as we have to play from 03.00 till 04.00 (after another Dutch Housemaster 'Erick E') during the 'Piper Heidsieck' clubnight 'Extravaganza' @ Club Rex (Hilversum). Another BIG opportunity to close it down over there and we will grab it with four hands! Be prepared for an atmosphere that makes the champagne bubble like a bath! #heyeverybodyfeelitinyourbody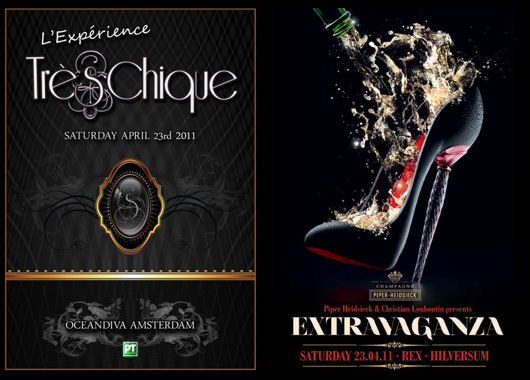 SUNDAY: 24 APRIL 2011
The Beach & Belgium! We are proud to be part of the line-up of a concept that has deserved it's position in the Dutch clubscene. 'Taste-It!' started years ago @ De Lichtfabriek (Haarlem) and evolved itself to one of the most respected house-concepts within the scene. Always taking care of a line-up 'with a story' in it and always keeping 'the quality of the party' in mind. This Sunday 'BC Fuel' celebrates the opening of the tasteful beach-season of 'Taste-It!' and again we are closing it down over there! Our settime (22.30-00.00) will make the grains of sand move under the jumping feet and we promiss our new banger will be presented over there too!
And as it's Easter (Yes, we are also free on monday) we take the highway towards Belgium for our debut gig in the 'Guinness Book of Records' country ;-) Club Carat is an established concept over there and with the perfect party-people we expect an incredible vibe! Special thanks from our side to 'Fred 'Bloomingdale' Vande Vliet for creating this opportunity for us. We will not disappoint him and 'The Belgians'!
EXCITED already and with the information above you know why…Wanna be just as excited as 'Brothers in the Booth'?!? JOIN US @ ONE (OR MORE) OF THE PARTIES ABOVE…Party-vibe GUARANTEED!! ;-)
#Bitbrecent - Take A Good Look!
#Bitbgigs - We Are There!
#Bitbtweets - Tweet Tweet