SIZE DOES MATTER DURING THE WEEKEND OF THE QUEEN!
03may
Wow, wow, wow! That's the way we love it, that's the way we roll! Another long weekend 'in our back' with 4 gigs that made us create more fans, more lovers and more addicts for 'Brothers in the Booth'. Four completely different gigs in which we showed you our skills and flexibility to fill in our part of the night as it should be; Heating it up, slowing it down or just banging it hard till the very end.
And while the queen was doing her thing in Thorn and Weert, we were enjoying the fantastic after-feeling of our DREAM GIG during 'SIZE World Tour' @ The Sand. 'A night to remember' in each and every way. Mister 'SHM' Steve Angello came to create an unforgetable vibe and knew his brother (AN21) and Max Vangeli could warm him up best. And with us setting the vibe for this incredible night between 23.00-00.30, we took the attention of other 'artists' on twitter.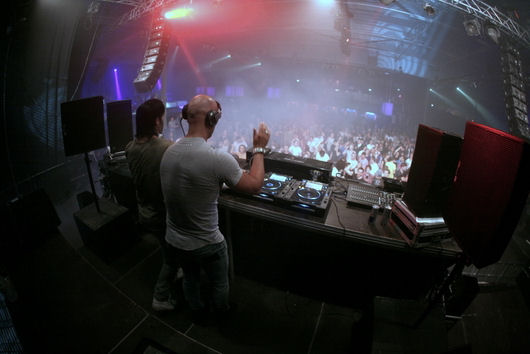 And while they were informing us with 'the right BPM' we were the ONLY DJ's standing in that booth, at that time, during that historical night, in that fairy atmosphere! Of course we love all the advice of the experienced artists a lot, but I guess they also understand we don't give a fuck ;-)) We just roll it our own personal way. Our special & warm thanks go out to 'Luxury Events' who showed again they are the only 'Dutch Organisation' who dares to stick out it's neck to bring such big and world-famous house artists to 'The Netherlands'. CHAPEAU!!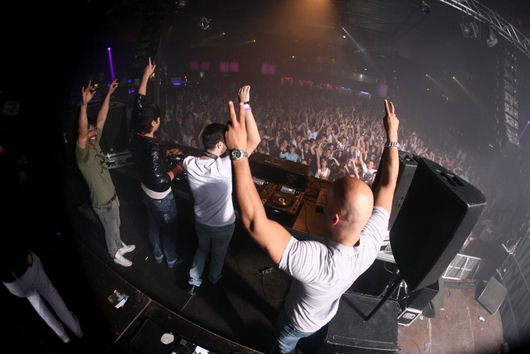 Putting the hands up with Max Vangeli & AN21!!!
'Queensday 2011' was a 'SOHO' one for us. The hottest party every year in Rotterdam as it brings all the familiair faces together in an 'Open Air' event. An early gig time (15.30-16.15) made us rock with a very low 'db level', but still our 'Ibiza Music Choice' caught the attention of the lovers. It was nice to be part of a fully '010 line-up' and with the sun shining bright and 'Orange', the day couldn't have been better.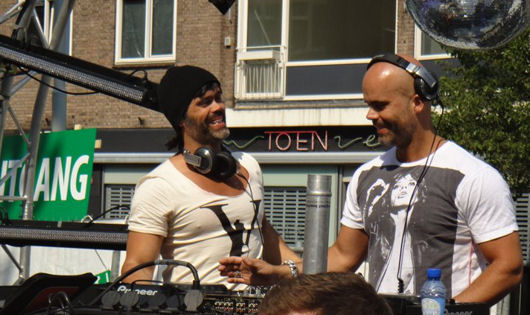 Taking our rest as two 'sunday gigs' were waiting for us. 'KISS' with the first 'beach-edition' @ BC Bloomingdale and 'Devoted to House Nights' with it's first edition on sunday (@ The VIP Room in Rotterdam). Two quality-based events who share the feeling of house together. And with a settime from 17.00 till 18.30 we knew on forehand we would probably be playing for the wood-work inside the beachclub. No problem for us as we enjoy every second of our personal music choice ourselves. '125bpm' during our whole set created the path for a quite packed edition on a difficult date. Compliments for the organisation for bringing in the good and fine party-peeps again.
Bloemendaal tot Rotterdam with a stop @ McDonalds (Hoofddorp). Playing records makes hungry (just check the tweets of all our colleagues ;-PP). Off to Rotterdam to rock 'The VIP Room' as the closing artists during 'Devoted to House Nights'. A night for artists who know how to play in a team. For DJ's who don't want to play a 'one man show'. For artists who understand the feeling of respect towards each other. That's what 'Devoted' is about. And with Cliff Jones (organiser/DJ) playing before us, we knew what we had to do: Rock even harder! We did it, we loved it and, based on the feedback from the crowd, we were not the only ones. Ending up with the ultimate 'Addicted to Love / Man with the Red Face' combination, we stamped our debut in this hotspot on the Stadhuisplein. Thanks for having us and we love it to join together and be as one! ;-)
Enough words from our side. Now it's up to YOU! Below a short selection of what you had to say about our sets of last weekend. And based on this we think we can keep our mouths shut for some days :-P #weletyoudothetalking #thanks #compliments






#Bitbrecent - Take A Good Look!
#Bitbgigs - We Are There!
#Bitbtweets - Tweet Tweet