THE ULTIMATE MOMENT TO SHOW ERICK MORILLO OUR 'TA2'
23jun
It was the summer of 2010 in which the whole clubscene fell in love with the beats and lyrics of that year's summer anthem. 'LIVE YOUR LIFE BE FREE' ruled the 'Subliminal' Wednesday clubnights @ 'Pacha Ibiza' with fantastic 'Sessions' and every week the loaded dancefloor expected Erick Morillo to play his masterpiece with Eddie Thoneick and Shawnee Taylor loud. And as this 'quote of a lifetime' influenced us more than ever before in the 365 days that are behind us, we decided to 'link' ourselves to this in an 'ink' and timeless way. We both took our right arm and asked the inker to make it all definite. To make us walk around with these words for the rest of our lifes.
THE SUMMER OF 2011
The season in Ibiza has started and with already two visits in the pocket and 3 other ones coming up, 'Brothers in the Booth' can state that they are living their dream & they are living their life to be free.
A visit to another rocking 'Swedish House Mafia' night at Pacha on Monday the 20th of June brought us to the best VIP-spot in the club! A fantastic night with uncountable 'hands-up in the air moments' and with Arno Cost, Sebastian Ingrosso and Steve Angello rocking the night away in ultimate energy. And just when we felt it couldn't get more 'ultimate', we bumped into Erick Morillo himself.
The first opportunity to show him our timeless addiction for what he created in 2010 was grabbed with both arms by us. Visibly surprised and amazed we invited him to our table were history was 'SHOT' by Boyd! Just check the picture below as we are showing our 'Ta2' with much pride and check master Erick in the middle, being proud as well! #justexcited!!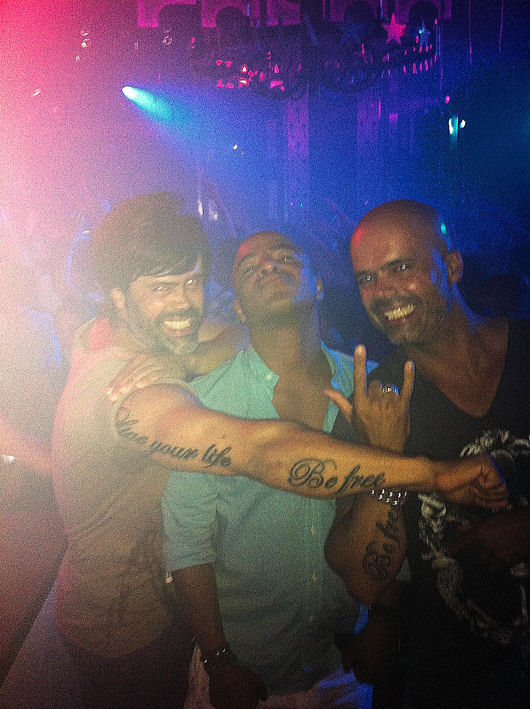 The summer is gonna be hot and with a possible (official) photoshoot with Erick and us coming up, we think you can imagine how much we are looking forward to the island where everybody just live their life to be free….Just to be stronger than every day before today ;-)
#Bitbrecent - Take A Good Look!
#Bitbgigs - We Are There!
#Bitbtweets - Tweet Tweet