ENDING 'THE OLD' & STARTING 'THE NEW' WITH A BANG!
28dec
Fully booked! That stamp applies to our programm for 'NYE 2011'. 4 gigs existing of 5 hours of music by 'Brothers in the Booth'! And as we have still some energy left after a massive energetic year, you CAN & MAY expect the BEST of US!
We will open 'Beautiful People' from 21.00 till 22.00 @ The Sand before we head towards 'Little Buddha Bar' in the centre of Amsterdam. From 23.00 till 01.00 we will make the people dance during the 'Year Change' with an uplifting, vocal house-set @ Domenica Chique – Vogue NYE!
A lot of people still give us compliments regarding our 'Easter Set' during 'Taste It!' (24-4) @ BC Fuel last summer. Now we will do it in the ultimale puming way again during 'Taste It! – I Love 2012' from 2.15 till 3.15 @ Lichtfabriek (Haarlem). It's gonna be MADNESS! 45 minutes to bring it from there to Vlaardingen where 'HouseQlusive' will transform 'De Stadsgehoorzaal' in an incredible hotspot. We close the night from 4.00 till 05.00!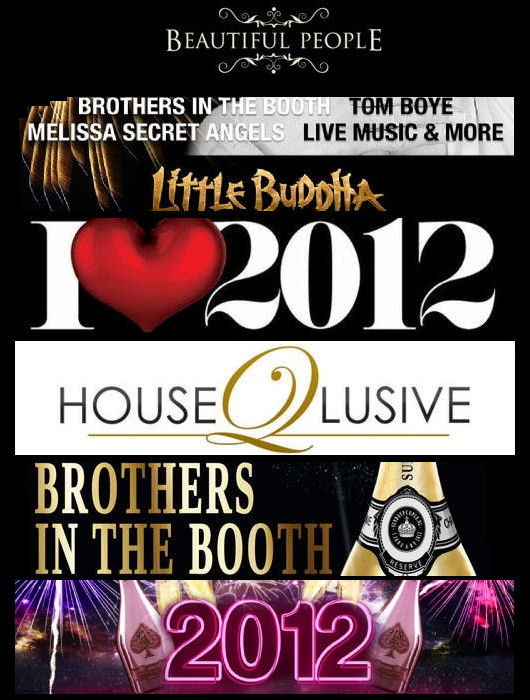 More than 90 gigs in 2011 and already some planned in January 2012. Including two on the 1st of January. We will set 'Sunday People' ON FIRE for the second time before we head for Zaandam (The Villa) to heat it up between 2.00 and 3.00!
We are looking forward to the end of the OLD and the beginning of the NEW! #fireworks #bitb #2011>2012
#Bitbrecent - Take A Good Look!
#Bitbgigs - We Are There!
#Bitbtweets - Tweet Tweet