WE ARE GOING TO SUPPORT ERICK MORILLO'S BIRTHDAY!
30dec
For more than a year, HE wasn't here. His last performance on 'Dutch Ground' was during 'Voodoo Nights' on the 6th of November 2010, where his 'waves causing' performance made the 'Ocean Diva' shake! And 'Brothers in the Booth' were part of the line-up of that unforgetable night!
AND NOW HE'S BACK! Back to celebrate his birthday with YOU! And everybody who's planning to give us the best wishes for 2012…We have some news for you: 'Brothers in the Booth' will AGAIN be part of the line-up together with ERICK MORILLO himself and Dutch house-master DJ ROOG!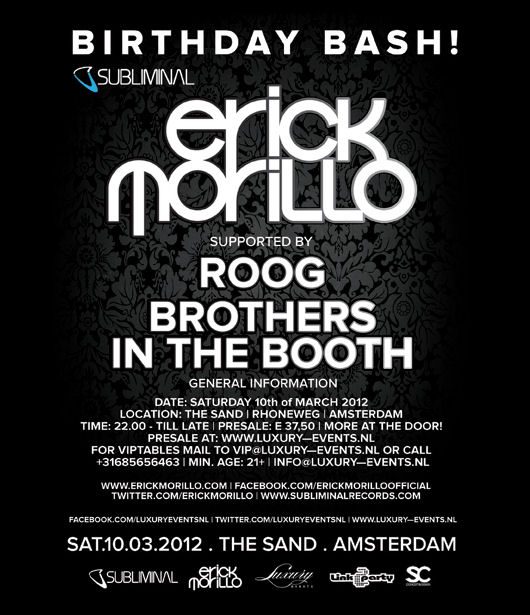 On Saturday the 10th of March 2012, The Sand will be transformed into a fantastic 'House Walhalla' again! And you can imagine that one of our greatest wishes for 2012 already came true with this confirmation, even before the new year has started! #AMAZING!
You can buy your tickets via www.luxury-events.nl and of course we advise you not to hesitate getting them while they are HOT!!
2012 WILL JUST BE LEGENDARY!!! #BAM #BAM #BAM!
#Bitbrecent - Take A Good Look!
#Bitbgigs - We Are There!
#Bitbtweets - Tweet Tweet