ROGER SANCHEZ, STEVE ANGELLO & OUR PRODUCTIONS!
09mar
When you reach a milestone, it's time to mention this towards a greater audience. SO HERE WE GO!! This year we will be travelling to Ibiza for our 10th year in a row. 10 years of unbelievable, subliminal, sunny and fantastic parties. With one love for, in our opinion, still one of the hottest clubs in the world: Pacha! The club where we enjoyed historical nights with Erick Morillo, David Guetta, Defected Artists, Swedish House Mafia and......Roger Sanchez! We will never forget the multiple-hour sets of the S-Man during the legendary monday nights!
And when we talk about a 'Legendary Monday Night' we can mark monday the 7th of March 2011 as one! Because that was the night that Roger was doing Club Vie in our hometown Rotterdam. That was the night we were called, BBM-ed and informed. That was the night that world artist, DJ and producer Roger Sanchez was playing our bootleg of 'Rolling in the Deep'. The bootleg we did together with 'Helguera & Dominicus' has gained BIG support during the last 2 weeks and as you can imagine this was 'THE CHERRY ON THE CAKE' so far!
Below the evidence (Big up again for Ray 'Spielberg' Ventos) of what happened last (monday)night, while we were rocking our studio with some hot new productions: Proud, Just proud!
WE WILL BE PARTY OF A LEGENDARY NIGHT
It's definite! 'Brothers in the Booth' are part of the MASSIVE line-up of the 'Size World Tour' that will come to 'The Sand' on the 29th of April 2011! And with shining stars Steve Angello, AN21 & Max Vangeli in this line-up the international touch is more than complete. Dutch heroes Sunnery James & Ryan Marciano are also part of this rocking night and with only 1,5 month to go we are already looking forward to this one in a BIG WAY! The time-table is not announced yet, but their is a great chance 'Brothers in the Booth' may warm-up one of the mentioned international stars! Do we need to say more?!??!? BAM!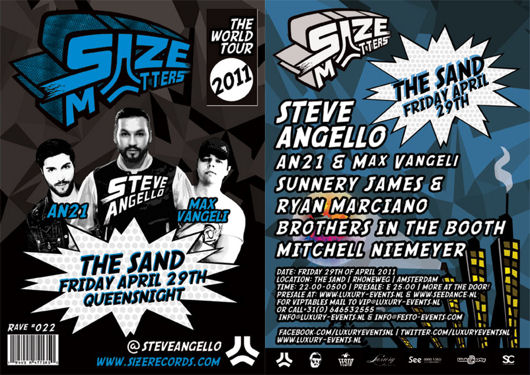 OUR PRODUCTIONS...SO FAR....AND UPCOMING!
Our motto 'WE ARE ON A ROLLLLLLLLLLLL' is getting more and more realistic. As the speed which whom our tracks are rolling out of our studio is getting close to 'unlimited'! We have informed you about the steps we are making together with our buddies 'Helguera & Dominicus', but we can imagine it's sometimes going a little to fast for you all. And as we like to keep the overview ourselves, we are below 'outlining' our work (in 'snippets') so far.
And as mentioned in a lot of updates on 'The Social Network' you can expect some new ones on very short notice...'Slowing Down' is not mentioned in our dictionary! :-)
Adele / Rolling in the Deep - Brothers in the Booth, Helguera & Dominicus Bootleg (SNIPPET) by brothersintheboothKing of the Divan - Brothers in the Booth, Helguera & Dominicus (SNIPPET) by brothersintheboothH.Y.H. (Original Mix) - Brothers in the Booth, Helguera & Dominicus (SNIPPET) by brothersinthebooth
#Bitbrecent - Take A Good Look!
#Bitbgigs - We Are There!
#Bitbtweets - Tweet Tweet