'THE TIGER' IS GETTING INTERNATIONAL ATTENTION :-)
03feb
Yes, we have been sharing the 'TIGERRIDE' vid a lot on 'Social Media' and we will be doing this during the coming period.
Just because we are convinced the track is MASSIVE and the video expresses that same feeling. And based on the loads of attention for the track we can conclude we are not the only ones who think it's a GREAT production!
Below you can see the screenshot of a Facebook message by Katherine Wolstenholm from California and next to this we are again part (on lucky number chair 7) of an international flight (with passengers like Serge Devant, Syke'n'Sugarstarr, Those Usual Suspects) by 'Musik Lounge' (Australia).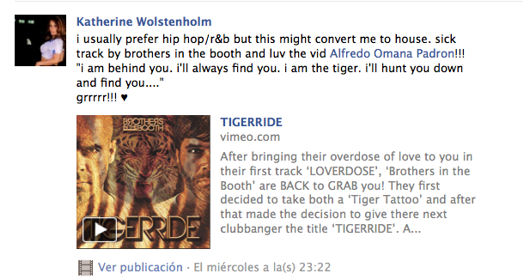 Yes, the tiger is out, out to find you all, out to hunt you all, OUT TO MAKE YOU DANCE IN A MASSIVE WAY! #BAM #bitb #2012
#Bitbrecent - Take A Good Look!
#Bitbgigs - We Are There!
#Bitbtweets - Tweet Tweet