THIS WEEKEND IT'S 'SUPER HE & WE' @ THE SAND!
06mar
Birthdays, every day. When we look upon the right side of our 'Facebook profile' we see the names of people who was given birth to on that specific date. And to be honest, we don't have much with sending our best wishes for the next 364 days as a reaction to this information. No, we rather party HARD in real life when someone is changing of age. And therefore we are looking forward to this weekend in a BIG way: SUPER HE & WE! :-)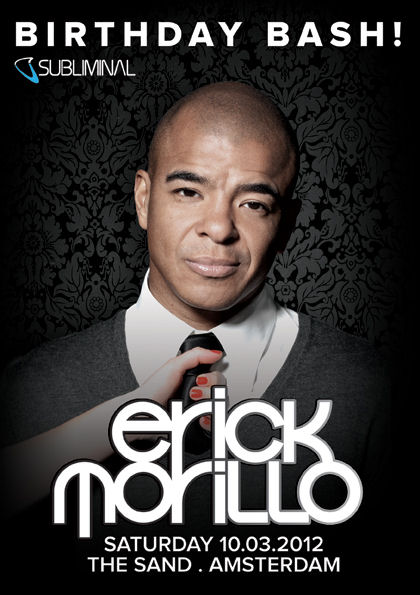 ERICK MORILLO! Our hero is coming to Amsterdam this Saturday to, indeed, celebrate HIS BIRTHDAY @ The Sand Amsterdam! And of course you all know that means partying in 'FULL IBIZA & MIAMI STYLE' together! 'Brothers in the Booth' are asked to CLOSE the night and we are already more than excited to 'blowdown the candles' in a MASSIVE way by means of BEATS & CO2!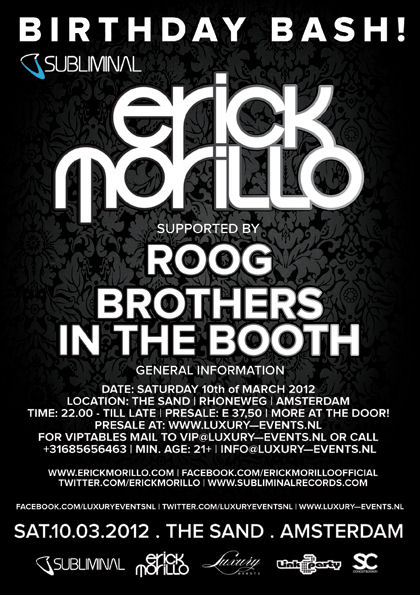 The last tickets are being sold right now! So, if you didn't already buy your ticket, be sure you give yourself the ULTIMATE gift NOW. Just because 'Mr. Morillo' is having his birthday! #BAM #BAM #BAM #bitb #2012
#Bitbrecent - Take A Good Look!
#Bitbgigs - We Are There!
#Bitbtweets - Tweet Tweet