ERICK MORILLO IS PREPARING HIMSELF FOR 'THE BIRTHDAY'!
08mar
If the 'birthday boy' himself is looking forward to Amsterdam?? Just check his post on Facebook below and you will understand why you don't wanna miss his birthday bash for a second! ERICK MORILLO hurt himself last weekend when he jumped into a piece of glass (from a Champagne bottle) in the booth. But HIS LOVE for Amsterdam and his Dutch fans is SO BIG, that there was not a minute of doubt to come over. So, please take ALL you have, as ERICK MORILLO deserves MASSIVE support from YOU!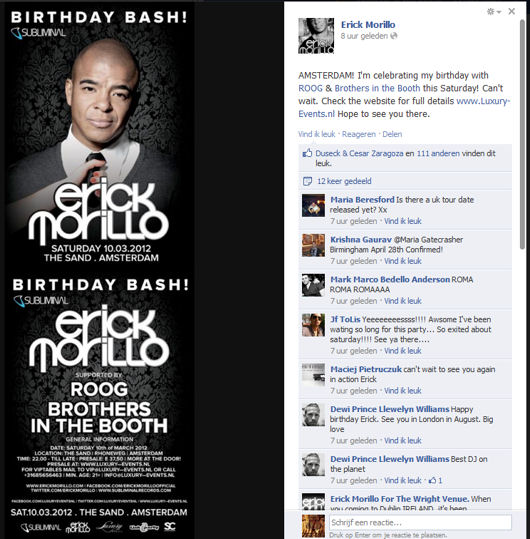 The TIME-TABLE for the night is confirmed today! Here you go!!
22.00-00.00: Jasper Clash
00.00-01.30: DJ Roog
01.30-04.00: ERICK MORILLO
04.00-05.00: Brothers in the Booth
It's gonna be a show, it's gonna be ONE BIG SHOW! Be prepared for LED-walls, fireworks, CO2, confetti, Ibiza beats all night long and all other party-ingredients you can imagine…JUST A BASH YOU WON'T FORGET!! #BAM #CUTHERE #ALL #2012
#Bitbrecent - Take A Good Look!
#Bitbgigs - We Are There!
#Bitbtweets - Tweet Tweet