OUR LATEST TRACK IS USED FOR AN ONLINE GAME!
31jul
WOW! The music of Brothers in the Booth is involved in a fantastic online game! Yesterday we brought you the final version of Springbrain and today we can confirm that this track is used for the Muy Pop® game 'Keep the Bubble Alive'! What better way to spend your holiday behind your laptop or computer trying to Keep the Bubble Alive?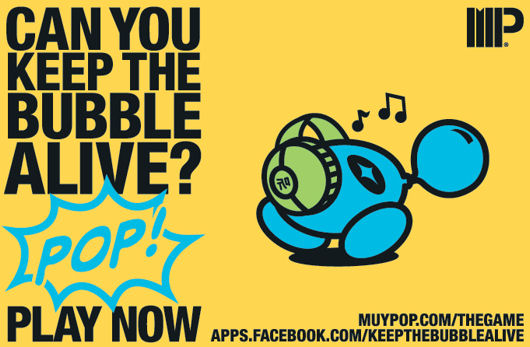 Share your highscores via twitter or facebook and see who's best at keeping the Bubble Alive! And while you are playing you can listen to one of our latest tracks!
You can play the game on facebook or on the Muy Pop® website.
So, all we can say for now is: Keep on playing and dancing! #BAM
Springbrain (Original Mix) - Full version by brothersinthebooth
#Bitbrecent - Take A Good Look!
#Bitbgigs - We Are There!
#Bitbtweets - Tweet Tweet