13-10: BITB SOLO @ MAX BROTHERS: THE WARM-UP MIX!
22sep
The official countdown has begun! On Saturday the 13th of October Brothers in the Booth will do it ALL NIGHT LONG @ Max Brothers in Arnhem. During the first edition of Max Presents (powered by Identita) we will do it SOLO TOGETHER for 6 hours!! Yes, it already does feel like a wet dream to us and we are therefor looking forward so much to this amazing night!
During the upcoming 3 weeks we would like to present you already a piece of the vibe you may expect during the night. A musical journey in which we will take you to all the levels of house music. Travel on our waves of sound and be prepared to dance all night long to the best house beats you can imagine.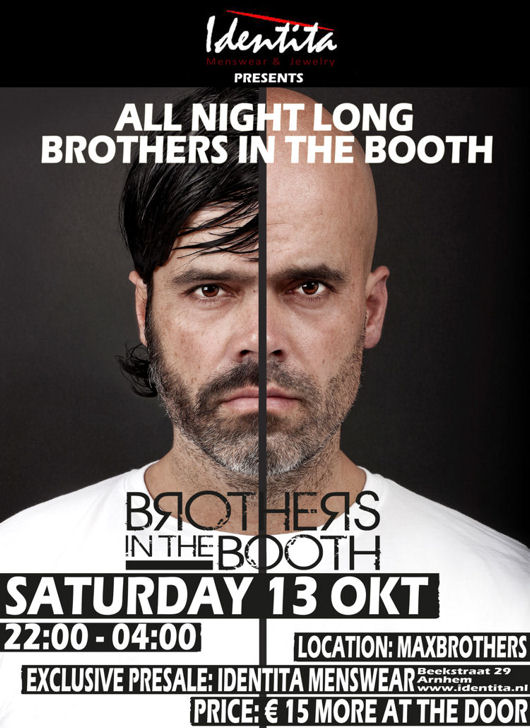 Let's kick if off with a 125BPM mix. A mix full of rolling techhouse beats to warm you up for a long night with us! And while listening to our mix you can get your tickets @ Identita Menswear (Beekstraat 29, Arnhem). ENJOYYYYYYYYYYYYYY!
BITB SOLO 13-10 @ Max Brothers - BITB 125BPM mix by brothersinthebooth
#Bitbrecent - Take A Good Look!
#Bitbgigs - We Are There!
#Bitbtweets - Tweet Tweet