PRESS PIC, PRODUCTION STEPS & PREPARATION!
18nov
To be honest, we are still a bit surprised about what happened last week. We decided to publish our official Brothers in the Booth press-picture on Facebook and the feedback was from another planet! DAMN! More than 70 reactions and more than 130 likes (printscreen added below to prove this all) from all of you confirmed our personal feeling on this picture: Timeless, Amazing & Unique! It shows that 'Brothers in the Booth' are two persons standing as one with their performance. And that's exactly what it is! Thanks everybody for the support and we guess you will see our heads soon on some promotional stuff near you ;-)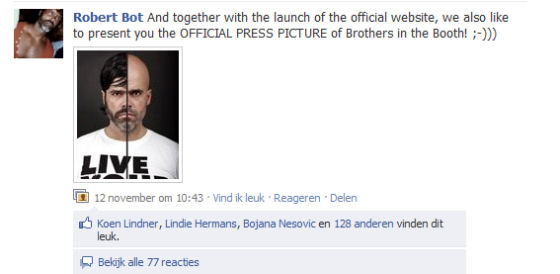 We made a promiss and we keep our promiss. Updating you with our 'life' on a weekly base and showing what keeps us running when not performing behind the decks in clubs. As our energy seems to have no limits, we started this week fresh with some production-work in our studio. Logic is quite logic when you feel the essentials of music. And with the support of Helguera & Dominicus (and off-course BIG TEACHER Baggi Begovic) the first steps felt like a Usain Bolt running during the Olympics! DAMN!! Making music is transforming the creativity that's in our heads for so long to something that can soon be heard by all of you. Just stay tuned and we are more than convinced already, you won't be disappointed!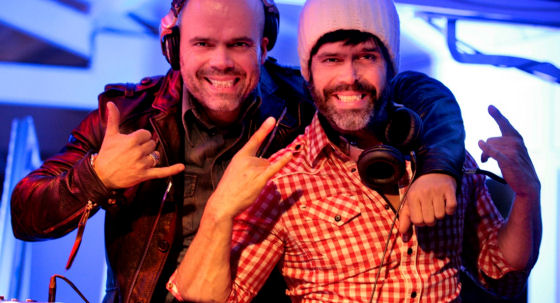 Action shot @ Yo Pro! (Zuidpool) by Ivo Geskus
Next to sitting behind our Mac's we had a weekly gig plannend @ Zuidpool on wednesday. Yo Pro! is a network event for Young Professionals and we were asked to play some tunes in the early hours and during the fashion show. Nice! A traffic jam of more than 2 hours and a late night snack (with Baggi Begovic) made us face to 'DJ-life' in all his glory...Baggi's next trackname will probably be 'Smells Like Garlic' ;-P
The coming days will be all about preparing for the weekend. Going on tour with 'Big Ron' (Carroll) and giving act @ Ex Porn Star's afterparty @ Bungalow8 asks for an updated music collection and off-course a good structure on our CD's. We don't expect CDJ2000 equipment so we will be carrying our bag full of CD's again. Anyone interested in carrying it? Saturday however will be magic for sure as we will be followed during the whole night by AJG Filmproductions. So this means we also need to sort out good clothing next to good music ;-) See you all this weekend and remember: The Brothers in the Booth are going like a G12...BAM!! ;-)
#Bitbrecent - Take A Good Look!
#Bitbgigs - We Are There!
#Bitbtweets - Tweet Tweet