OUR 'FLIGHT' AROUND THE WORLD, AROUND THE WORLD!
21jan
Saturday the 21st of January 2012. A special day for BITB. Because without driving to Schiphol Airport and without checking in, we are on a FLIGHT AROUND THE WORLD! Let us explain. There are thousands of ways to spread and receive promo's, but of course there's a difference in quality. And with being part of the flight by 'Musik Lounge' we are convinced we are involved in a more than qualitative one!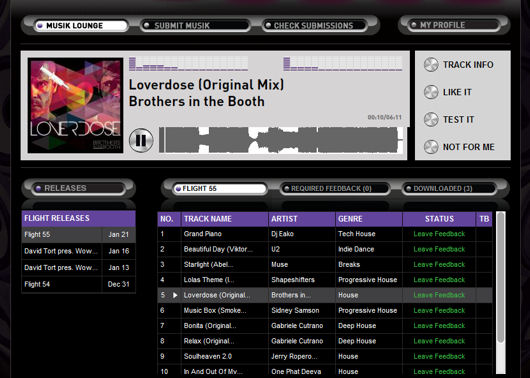 Sitting in between the passengers Sidney Samson and Shapeshifters 'Brothers in the Booth' are feeling more than comfortable in there, carrying 'LOVERDOSE' in our musical lugguage to inform the world with our sounds. And last week we received the confirmation that 'TIGERRIDE' is already planned for a seat during one of the next flights by 'Musik Lounge'. CAN YOU FEEL OUR EXCITEMENT?!?! #BAM #2012 #itsonlyjustbegun



#Bitbrecent - Take A Good Look!
#Bitbgigs - We Are There!
#Bitbtweets - Tweet Tweet