THE FIRST 'BROTHERS THE BOOTH ON TOUR' THREESOME!
25nov
A night to remember asks for a method to have it remembered in the best way. Last weekend Brothers in the Booth had a blast with 3 gigs during 1 night. The first plan was to have 5 gigs but without a helicopter or private-jet this could, unfortunately, not be fulfilled. And therefor we made our roadmap and time-table (off course in good cooperation with the specific organisations) as realistic as possible. Which meant a start in our hometown Rotterdam. 'My Name = Ron Carroll' let the giant 'US Star' cross the highways of our beautiful frogland and as it's impossible to let him play at prime-time on all three locations, he had a kick-off in Off-Corso Rotterdam. It was our honour to follow up his set for a quarter in the little room and for the rest of the hour in the big room of this old cinema. We pumped it the way we thought it was best at that time of the night and when Leroy Styles and Gregor Salto stepped into the booth a little before one o'clock we left them with a crowd that was ready for more. And so were we!
On our way to Panama for the second one of this 'Night Three-logy'! One hour to make it from the 010-city to the 020 one. Normally, when just looking at the map and the distance, an easy task. But with the highway work, which goes on for 24 hours a day, it causes a little stress. Red crosses above our heads make us watch our watches continuously, but our car luckily keeps on rolling steadily. With our rocking set in mind we don't wanna miss a second of this second gig of the night. And as you know, we are never too late and always in time. Mission Completed! Entering Panama just before 2 and rushing directly into the booth to replace Ron again. The perfect soundsystem (as referred to in the Gallery part of our website) by Vision Acoustics was hungry for our beats and so was the crowd.
Started it with a special message for the visitors as 'Just Dance' by Daniel Bovie and Roy Rox filled the club. But the rocker of the night was without any discussion Marco V's 'Contour'. DAMN!!! What a banger and what a reaction in the crowd! Hands up from the front to the back and from the left to the right! Wicked!! Following the set from this point on was just a flow that couldn't be stopped by our enthusiasm. Dancing people all captured by the video of AJG Filmproductions will prove it all...Just wait and see!
Panama done, next stop Bungalow8. Ex Porn Star celebrated their '10 Year Anniversary' with a blast at North Sea Venue and put the cherry on their cake with an official 'After One' @ Bungalow8 (located next to Jimmy Woo). It was the first time we entered this club and to be honest, we were surprised by the interior. We expected a really small club, but with two floors and well-decorated spaces it felt even like a club that could be situated in Miami. Up the stairs for our 1,5 hour gig which finally turned into a 2,5 hour one. And as it felt like playing on the second floor for the 'Underworld' it was just another experience added to our 'DJ-book of Fairy Tales' so far.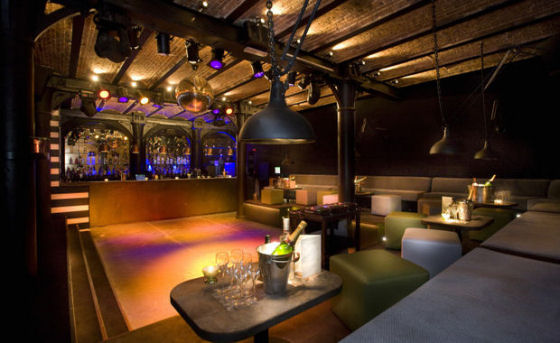 Our crew members for the night (Jordy DB and Papi) were almost sleeping when we played our last track, so around half past 7 in the early sunday morning it was time to call it a night. A night that was filled with playing, rushing, dancing and mostly enjoying our first 'Brothers in the Booth on Tour' Night. A night captured in a professional way and with the right touch. Soon you will a be enjoying our official aftermovie! Thank you all for the nice words on our sets and be alert for the first and official 'Brothers in the Booth Mix CD' which will be released in december 2010. From that point on you can expect a mix-CD every month, which will be send to your home-adress. Just inform us with your contact details by sending an e-mail to info@bitb.nl and we will keep you dancing every month! Whoop Whoop!
Note: We are very busy with our production work and building our studio space, which will probably be ready half of december. More info regarding this in our blog of next week! CU ALL THIS WEEKEND dancing in front of our booth! ;-)
#Bitbrecent - Take A Good Look!
#Bitbgigs - We Are There!
#Bitbtweets - Tweet Tweet