AT THE END OF THE YEAR WE BRING YOU OUR '2011 TOP 10'!
27dec
The end of the year is coming closer. Time to look back & give you our personal '2011 TOP 10'! With 82 written 'BLOGS' written this year, we are convinced we informed you all-in a fine way regarding everything that happened around 'Brothers in the Booth'. And we will for sure go on with this in the year 2012.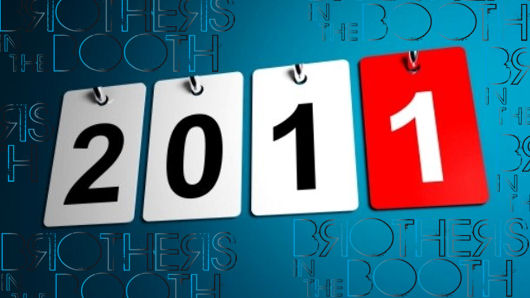 Productions, gigs, tattoos, aftermovies, image building, press-pictures, fashion, interviews, nominations, ADE, new website and so, so much more! Below we have mentioned our '2011 TOP 10'. And we decided to count it down from 10 till 1:

10. Our first track 'ON AIR' – Rolling in the Deep (Bootleg) – 5-2-2011
9. Our nomination for the 'Golden Gnome Awards 2011' – 17-3-2011
8. Mark is having the 'Brothers in the Booth' logo tattooed on his back! – 12-4-2011
7. Our residency in Ibiza – Sunshine Hotel is born! – 10-5-2011
6. Our first official release – Dirty Helene (together with H&D) – 30-7-2011
5. Presenting you our first 'BITB Track' – Loverdose – 14-10-2011
4. Our Web App is online – For iPhone and Android Users – 28-11-2011
3. A Day at the Beach 2011 was rocking Ibiza this summer! Aftermovie – 3-10-2011
2. ERICK MORILLO SHARING OUR 'LYLBF PIC' ON HIS FB WALL – 21-12-2011
1. OUR WARM-UP SET FOR DAVID GUETTA @ THE SAND (ADE) – 24-10-2011

As you can conclude by yourself: We did more than a lot this year to satisfy our and your needs. For us it was a FANTASTIC YEAR in the booth and outside it. But we are convinced that the next 365 days will bring YOU and US soooooooo much more!!
Thanks for your support and let's keep it ROCKING in the new year! #BAM
#Bitbrecent - Take A Good Look!
#Bitbgigs - We Are There!
#Bitbtweets - Tweet Tweet